The County Finals were held yesterday at County President Murray Wylie's home green Kirkcudbright. The Championships are sponsored by Bendall Funeral Directors and Ian Bendall was on hand to present the prizes along with President Murray.
SINGLES
Hugh Robertson (New Abbey) played Scott Davies (Castle Douglas)
Hugh raced to a 8-0 lead after 4 ends. Scott started to get some shots and had pulled back to 13-8 down after 12 ends. 13 was an unlucky number for Hugh because Scott went on to lead 20-13 after 17 ends. Hugh got 3 shots in the next 2 ends but Scott got the single he needed to win 21-16.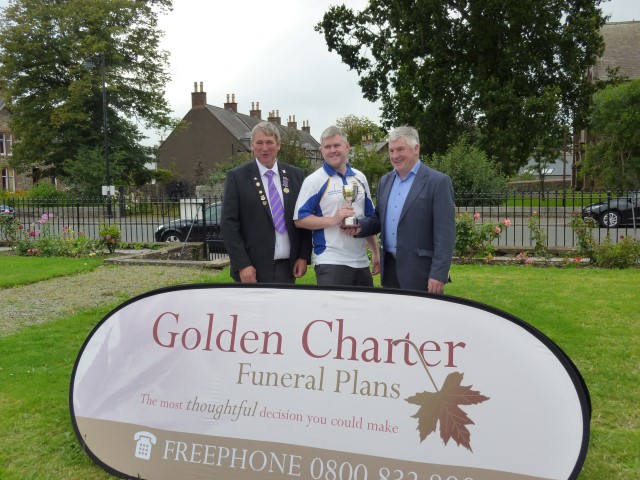 JUNIOR SINGLES
Alan McDonald played Keigan McMinn in the Junior Singles Final. The first 8 ends was close with Keigan leading by 1 shot at 6-5. Keigan then had a good run in the next 6 ends scoring 11 shots to Alan's . Keigan went on to win 21-9.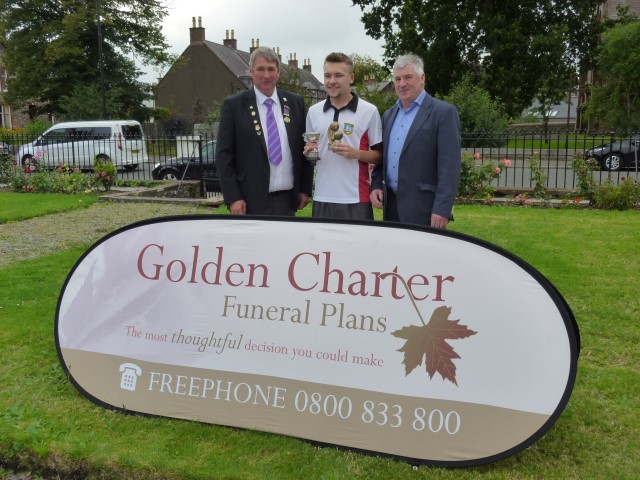 PAIRS
The pairs was an all Kirkcudbright match between Steven Little & Peter Brown and David & Darren Gourlay.
Stevie & Peter lead 10-7 after 10 ends and the scored 8 shots to 1 to win18-8.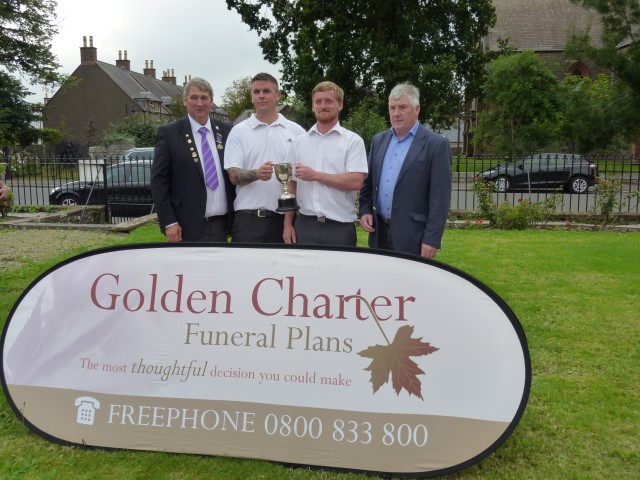 TRIPLES
William Brydson, William Green & John Crawford (Castle Douglas) played Steven Little, Brian McClune & Robert McClune (Kirkcudbright). Castle Douglas lead 5-4 after 5 ends then score 11 shots to 1 over the next 6 ends to lead 16-5 after 11 ends, Kirkcudbright then got a 1 & 6 and the game finnished 17-12 to Castle Douglas.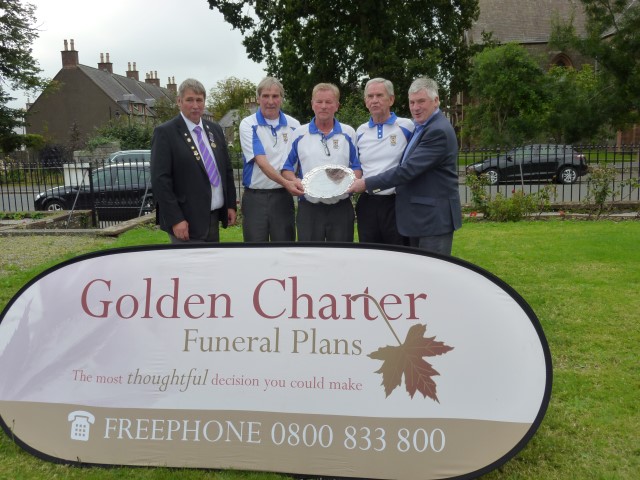 FOURS
Frank Cummins, Jim Maginess, Ben Herries & Ian Carter (Creetown) played Scott Hutchinson, Jim McCrossan, Darren Gourlay & Peter Brown (Kirkcudbright). The fist half of this game was even, after 9 ends Creetown lead by 1 shot at 8-7. Creetown then won 12 shots in the next 5 ends and went on to win 20-10.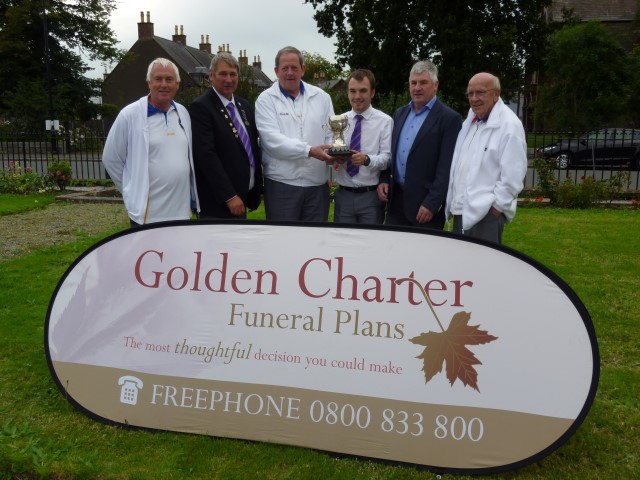 Senior Fours.
Peter Hamilton, Ian Murray, John Peacock & John McNally(Spalding) won against Bob Coban, Kenny Logan, Joe Porter & Billy McMinn(Dalbeattie). This was a close game with Spalding just having the edge, winning 14-9.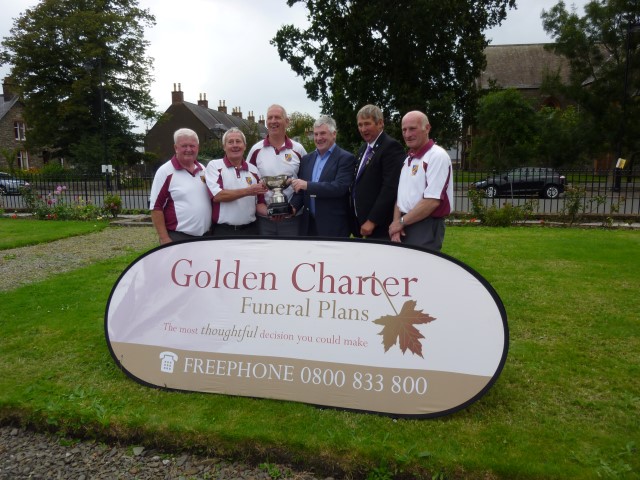 Dalbeattie President Joe Porter is presented with the Top Ten Trophy.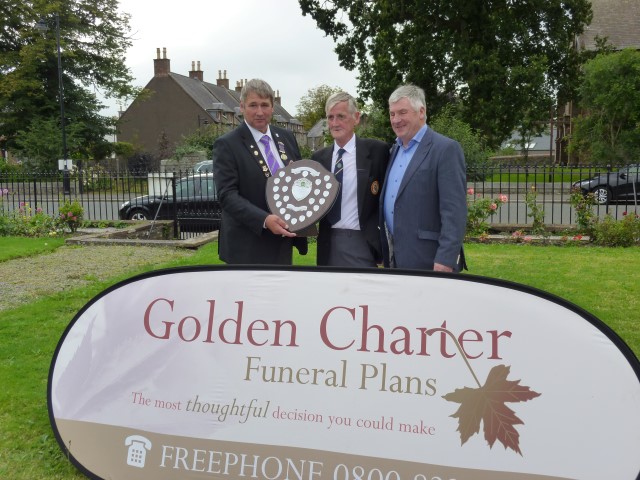 President Murray Wylie thanks Ian Bendal for his sponsorship.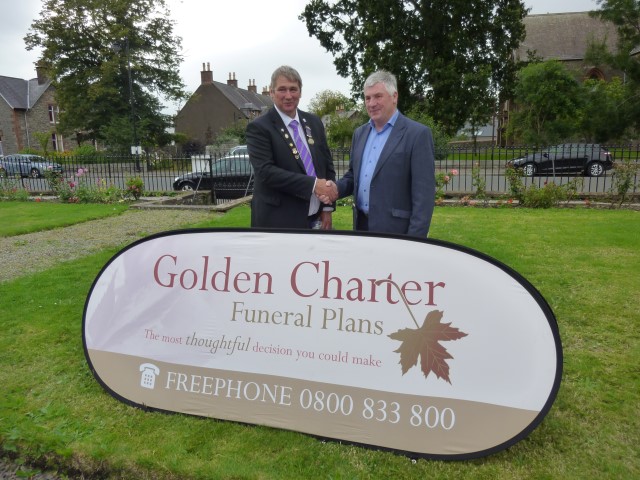 Mixed Pairs.
Louise Little & Robert McClune(Kirkcudbright) played Christine Tenent & Keith Shuttleworth(New Abbey)
Louise & Robert had the better of the first 7 ends and lead 10-4, Christine & Keith then had a great run and by end 13 lead by 19-10 and went on to win 22-13.