The Stewartry Bowling Championships were held today at Castle Douglas Bowling Club, home club of Stewartry President Scott Davies. The finals are sponsored by Ian Bendal Funeral Director and Golden Charter. President Scott Davies and Ian Bendal presented the prizes and at the end thanked all involved he also thanked retiring Secretary Anne Tait for all her hard work over the last two years. Vice President John Peacock from Spalding BC finished of the day with a final vote thanks.
First final on the green was the Triples between Ian Carter, Alan Johnstone & Steven Grassham from Creetown and Keith Shuttleworth, Oliver Clingan & Les Shuttleworth from New Abbey. Creetown had the better start and lead 5-1 after 5 ends but a 5 in the 8th end put New Abbey back in the game and a strong finish scoring 9-0 in the last 4 ends saw New Abbey win 17-9.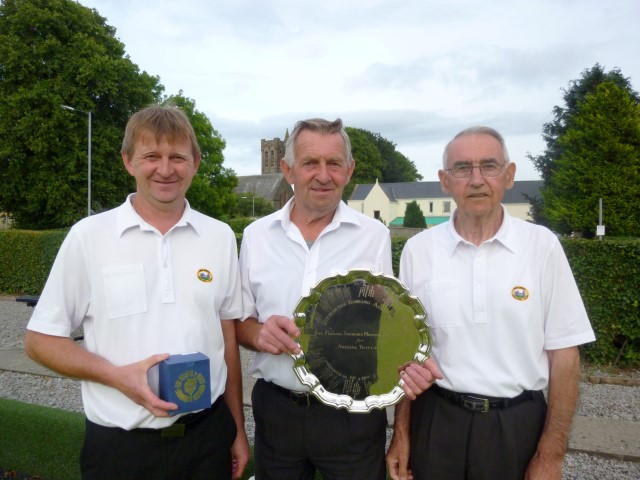 The Fours were next on the green with the Castle Douglas rink of Alan Davies, Scott Davies, Brian Swales & Garry Davies playing George Brown, Steven Johnstone, Tommy Docherty & Peter Brown from Kirkcudbright. Castle Douglas had the better start and lead 5-2 after 5 ends, by 10 ends Kirkcudbright had edged just in front at 9-7. Castle Douglas just had the better of the final ends and managed to hold on to win 13-12.
The Senior Fours was another Castle Douglas v Kirkcudbright match with John Crawford, Stewart Gilmour, David Shennan & Douglas Hunter playing Brian McClune, Murray Wylie, Idris Dean & David Gourlay. This was an other close game with Kirkcudbright 1 up at 6-5 after 7 ends but a 7 in the 8th end for Castle Douglas put them in front and they managed to hold on to win 18-17.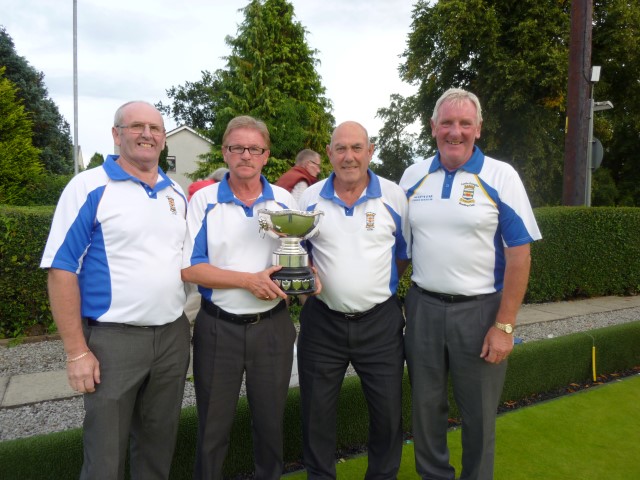 The Mixed Pairs saw Father & Daughter Scott and Elly McCubbin from Auchencairn play Alan Green and Fiona Whitby from Castle Douglas. The first end were close with Auchencairn leading 8-6 after 9 ends but Castle Douglas lost 13 shots in the next 4 ends to be 21-8 down after 13 ends and Auchencairn went on to win 22-12.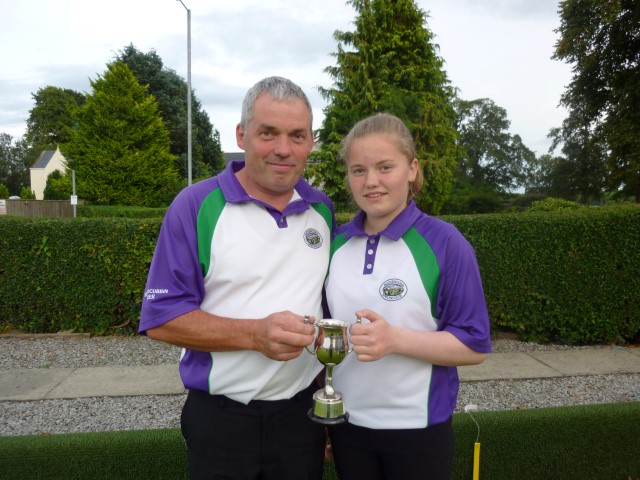 The pairs saw another Auchencairn v Castle Douglas game with John McGarrie & Joe Caldow playing William Brydson & William Green. The Auchencairn pair had a disastrous  start losing 11 shots in the first 4 ends from which they never recovered and the two "Williams" from Castle Douglas went on to win 21-8.
The singles was between Alan Davies from Castle Douglas and Keith Shuttleworth from New Abbey. This was both players second game today with Alan having won in the Fours and Keith in the Triples. Keith had the better start to this game and lead 6-2 after 5 ends and 13-3 after 10 ends. Alan tried hard and it was 13-9 to Keith after 15 ends but Keith finished the stronger  and won 21-12.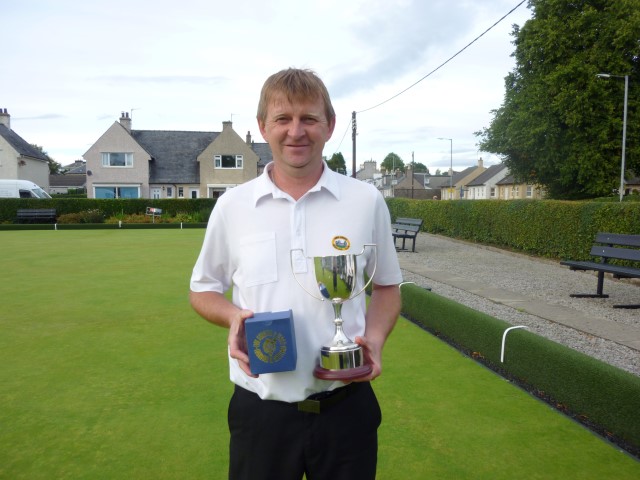 The Junior Singles was an all Kirkcudbright affair with Peter Brown playing Keegan McMinn. The early part of this game was close with Keegan just having the better of the early ends, But Keegan got stuck on 11 shots and Peter went on to retain his title 21-11.