The Stewartry Bowling Championships were held today at Spalding Bowling Club, home club of Stewartry President John Peacock. The finals are sponsored by Ian Bendal Funeral Director and Golden Charter. Elizabeth Peacock wife of Stewartry President and Ian Bendal presented the prizes. President John thanked all involved in making the day a sucsses in spite of the weather.He also thanked Ian Bendal for his support of Bowling in the Stewartry. Vice President Ben herries from Creetown BC finished of the day with a final vote thanks.
Mixed Pairs was Scott and Elly McCubbin from Auchencairn who won the Championship last year against Billy McMinn and Anne Tait from Dalbeattie. This was a close game, Dalbeattie led 8-6 after 10 ends but Auchencairn had the better of the closing ends and went on to win 13-0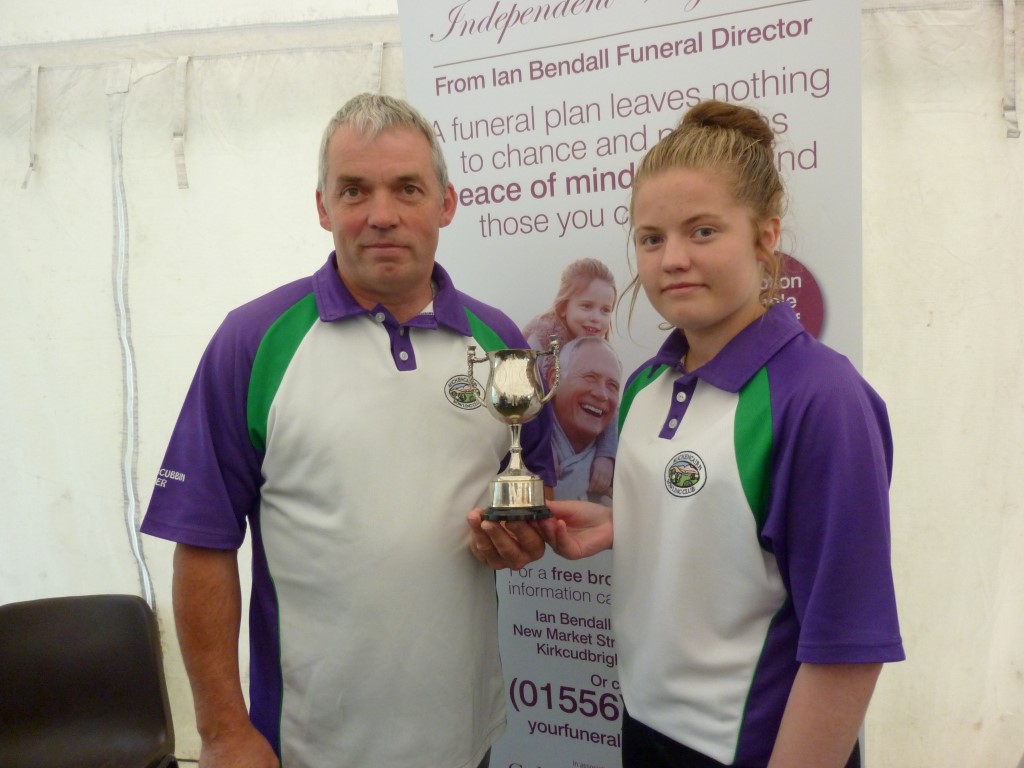 The Pairs was between Alan Davies & Gavin Green from Castle Douglas and James Richardson and Ronan Crossan from Dalbeattie. This was a very close game that was won by James & Ronan 18-17.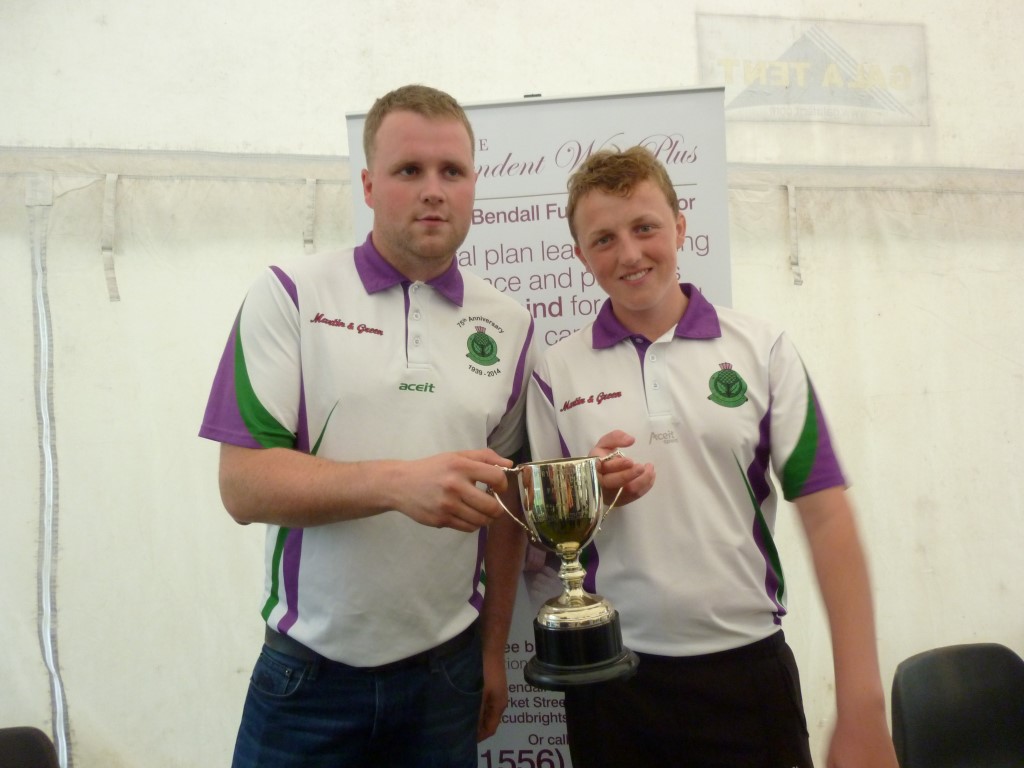 The Senior Fours was the final game of the morning sesion with Jock McGarrie, Stewart Crossan, George Davidson & Joe Caldow from Auchencairn playing the Kirkcudbright rink of Brian McClune, David Gourlay, William True & Colin Campbell. Auchencairn got of to a great start in this game with a 6 in the first end, then lost 5 in the next 2 ends. After 10 ends Auchencairn lead 13-8 then Kirkcudbright scored 6 shots in the next 2 ends to lead 14-13. Auchencairn scored 5 shots in the last 3 ends to win 18-14.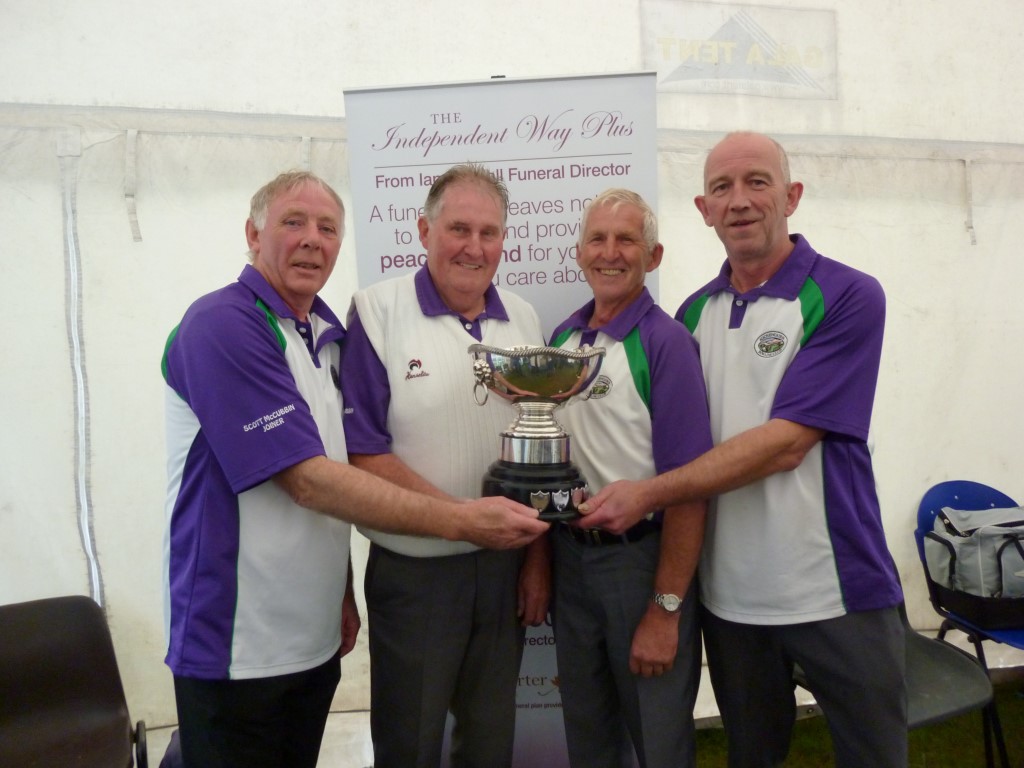 Keith Shuttleworth had a walkover to win the County Singles.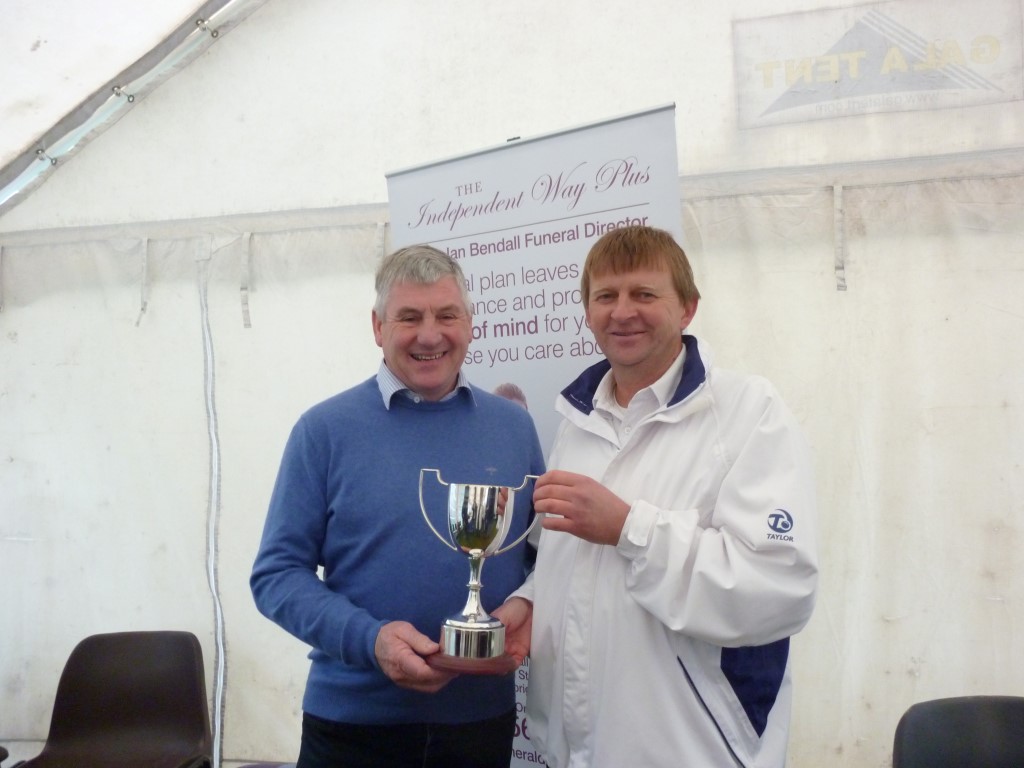 Fours was played between Tommy Caven, David Green, William Brydson & William Green from Castle Douglas and James Richardson, Dennis McKnight, Billy McMinn & Stevie McMinn from Dalbeattie. This game was 5 all after 5 ends but Dalbeattie were ahead 14-5 after 10 ends and 20-12 up after 14 ends but Castle Douglas won the last 3 ends to level the game at 20-20. The game then went to an extra end in which Dalbeattie managed to get the shot and win the game.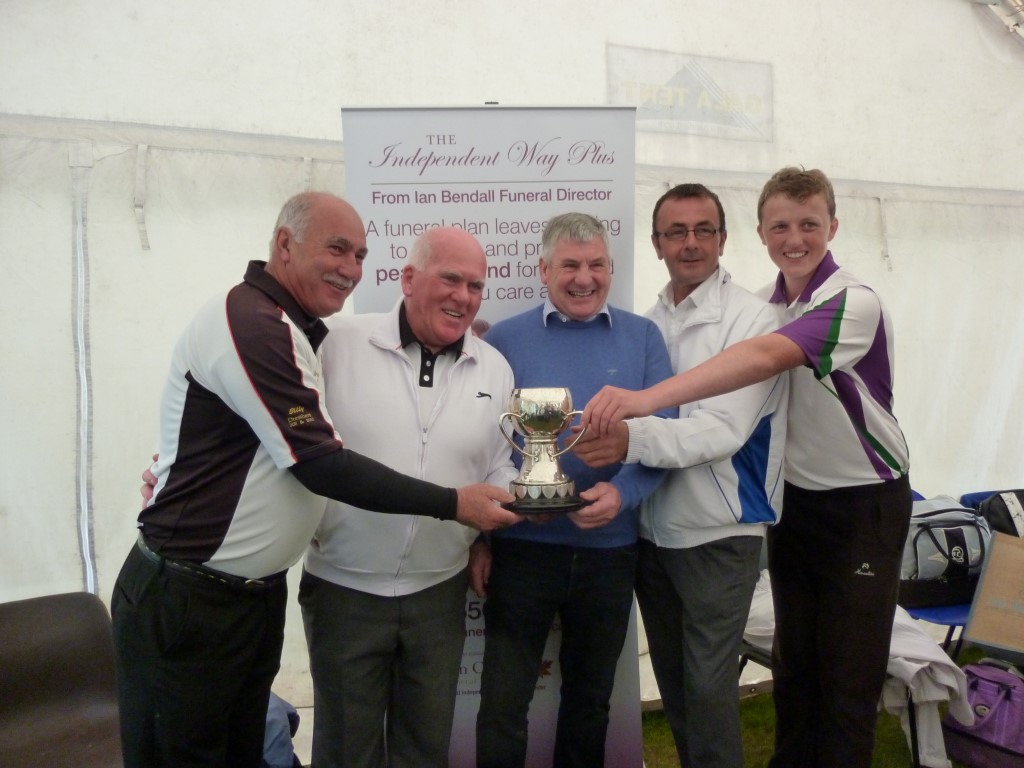 The Triples was between Oliver Clingan, Hugh Robertson & Keith Shuttleworth from New Abbey and the Castle Douglas triple of William Shennan, Scott Davies & Melvin McTaggart. New Abbey got of to a great start and lead 8-0 after 3 ends, then Castle Douglas scored 11 shots in the next 4 ends to lead 11-8. By the time they got to the 14th end New Abbey lead by a shot at 17-16. Castle Douglas scored a pair in the last end to win by a shot 18-16.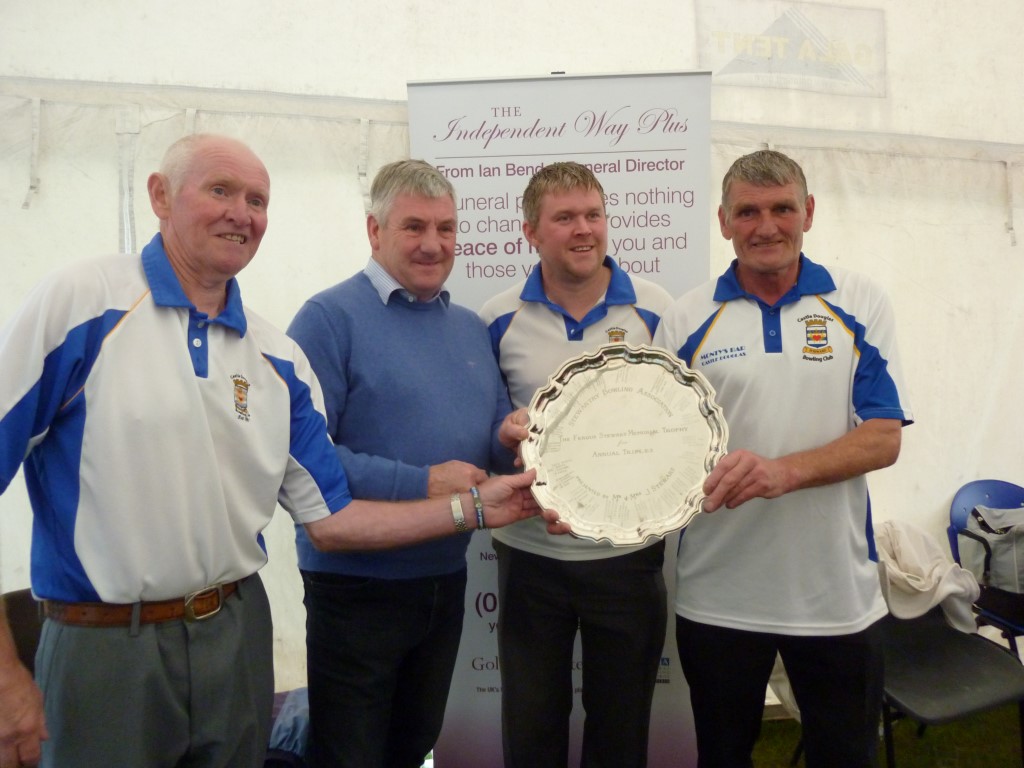 The Junior Singles was between two young Kirkcudbright bowler, Peter Brown and Ewan McMinn. Both players were playng well with Ewan getting to 20 with Peter catching up on 17 when Ewan got a great wick to roll in for shot and win the game 21-17.