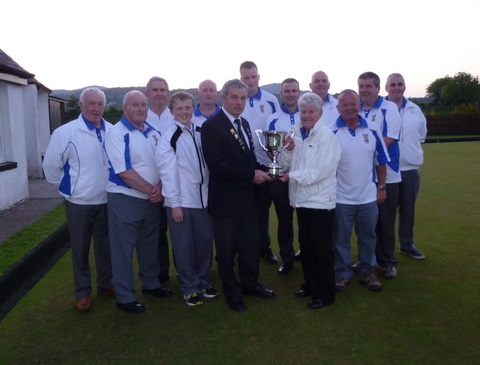 Castle Douglas 'B' win the KBA Cup at Auchencairn on Friday night. Stewartry Vice President Scott McCubbin presented the Cup to Castle Douglas President Lorna Dobbie.
2 Bowl Pairs- CD 'B' Tom Maxwell & Tommy Caven - Dalbeattie Stuart Tait & Billy McMinn
CD were 3 shots up after 7 ends and the same after 14, the game remained tight and finished  CD 'B' 19 - Dalbeattie 17
4 Bowl Pairs - CD 'B' Norman Davies & Graeme Maxwell - Dalbeattie James Harper & Steven McMinn
Dalbeattie got off to a good start and lead 6 - 0 after 4 ends but CD picked up 9 shots in the next 4 ends, there after the game was very close with Dalbeattie getting the shot in the last end to win 16 - 15.
Triples -  CD 'B' Colin McCleary, Michael Turnbull & William Brydson - Dalbeattie James Curzon, Ronnie Gibson & Bruce Richardson.
CD got off to a good start in this game and lead 6-1 after 5 ends and 13-4 after 10 ends and finnished up winning 17 - 8.
Fours -  CD 'B' James Richardson, Gordon Davies, Ronnan Crossan & John McGaw - Dalbeattie Kenny Logan, Duncan McFegan, Tommy Feenan & Dennis McKnight.
This was another close game 5 -5 after 5 ends, Dalbeattie lead 13 - 9 after 10 ends but CD had the better  of the remaining ends and won 16 - 15
Castle Douglas 'B' 67 - Dalbeattie 56